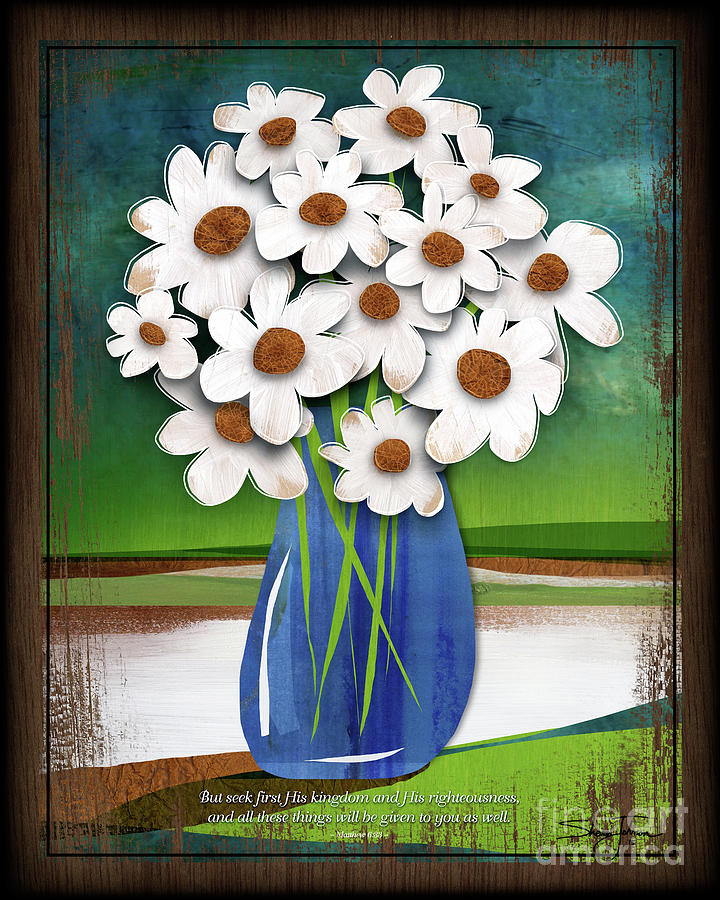 Medium
Mixed Media - Acrylic, Oil Pastel, Paper, Digital
Description
But seek first His kingdom and His righteousness,and all these things will be given to you as well.– Matthew 6:33

"God Is Good All The Time."

Sometimes when life gets hard and we are confused about why things aren't turning out like we thought they would, it's important to remind ourselves that "God is good ALL the time". The hardship and pain we are enduring is not from God, but rather Satan and the fact that we live in a fallen world that promises hardship. --However, if we have committed our hearts to the Lord, we can be assured that God will use the temporary discomfort and/or disappointment we are enduring to bring good into our lives. --- Unfortunately, sometimes that reminder just doesn't seem to be enough and we can become bitter towards God and start to believe that He is against us or is for some reason angry with us. I know that I have been there from time to time! I'm sure there are others who have struggled too with the goodness of God in the face of difficulties this side of heaven.

When I am in these discouraging places in my faith walk, I have to remind myself of the Truth by reading the scriptures that tell me that God is Love and that this hardship is temporary. I'm going to be "okay" because God loves me and is a Daddy who wants to bless me.

" 'For I know the plans I have for you,' declares the Lord, 'plans to prosper you and not to harm you, plans to give you hope and a future.'" - Jeremiah 29:11

"God is love." - 1 John 4:16

"There is no fear in love. But perfect love drives out fear, because fear has to do with punishment. The one who fears is not made perfect in love." -1 John 4:18

"God is light; in Him there is no darkness at all." -1 John 1: 5

"While He lived on earth, anticipating death, Jesus cried out in pain and wept in sorrow as He offered up priestly prayers to God. Because he honored God, God answered him. Though he was God's Son, He learned trusting-obedience by what He suffered, just as we do. Then, having arrived at the full stature of his maturity and having been announced by God as high priest in the order of Melchizedek, He became the source of eternal salvation to all who believingly obey Him. - Hebrews 5:7-10

"Let us not become weary in doing good, for at the proper time we will reap a harvest if we do not give up." -Galatians 6:9

So, when I get tired of being at my pity party, I have to intentionally declare out loud..."God is GOOD ALL THE TIME!" because...He is.
Statistics
Viewed 4,290 Times - Last Visitor from Cambridge, MA on 12/09/2023 at 10:28 PM